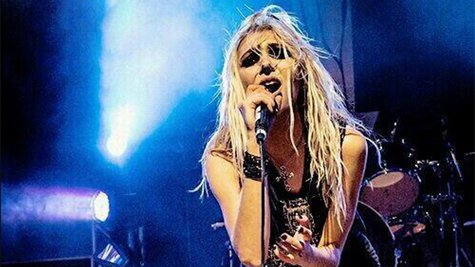 When the surviving members of Nirvana played at the recent Rock and Roll Hall of Fame induction ceremony, they asked a series of female singers -- including Joan Jett , Annie Clark , Kim Gordon and Lorde -- to stand in for the late Kurt Cobain . In a recent Rolling Stone piece, Dave Grohl said that he and Krist Novoselic chose women because "it was about the future."
These days, it's hard to imagine the future of women in rock without Taylor Momsen 's name popping up. The frontwoman of The Pretty Reckless has a giant voice, an even bigger reputation and a Cobain-like snarling disregard for society's norms.
It turns out that Momsen is a big fan of Nirvana -- and knows Grohl and Nirvana touring guitarist Pat Smear -- but she tells ABC News Radio that she wouldn't have taken the gig, if they had offered it to her. "See, I wouldn't have done it, because I'm not Kurt Cobain," she says. "It's not the same without him. I know all those guys, but I don't know if I'd do [a Nirvana song] justice."
Momsen probably will soon get the chance to talk about the Hall of Fame performance with one of the participants -- both she and Joan Jett are scheduled to perform at the Revolver Golden Gods Awards this week.
Copyright 2014 ABC News Radio