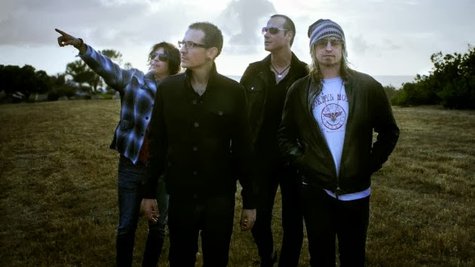 Last week's news that Chester Bennington and Stone Temple Pilots had begun working on new material seems to have missed STP's former singer. In an interview with iChill.ca , Scott Weiland said his old band's partnership with Bennington "didn't work," and took a dig at the new version of the band for its lack of commercial success.
Weiland pointed out, "They made an album and it sold 35,000 units. That's kind of unbelievable considering STP sold over 40 million and I'm sure Chester's band Linkin Park has sold pretty much the same amount."
Of course, Weiland's accounting is a bit skewed, since album sales in general are fractions of what they were in the '90s, STP's heyday. But the singer still attributes the drop in STP's album sales to Bennington's presence. "[The new partnership] didn't work, though," he said. "People weren't buying into it."
No one in the STP camp seems to be paying Weiland much mind. Chester Bennington recently revealed that he and the Pilots had just written some new material "and that was a lot of fun, so we're planning to record some music as soon as possible."
Though Bennington says he doesn't know exactly when the STP recording sessions will start, he says it's a priority. "We want to do it as soon as possible. So we'll make that happen with the time that we have, when I'm not on the road with Linkin Park."
Bennington and the rest of Linkin Park play Charlotte, NC tonight on their Carnivores tour with Thirty Seconds to Mars .
Follow @ABCNewsRadio
Copyright 2014 ABC News Radio