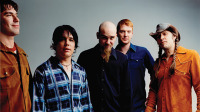 Josh Homme is the latest rocker to take the ALS Ice Bucket Challenge. The frontman of Queens of the Stone Age took a quick-and-easy ice water bath, when an off-camera person doused him with water in the middle of his speech in a video posted to YouTube . The footage then slows down so that Homme's sputterings sound like animal grunts and roars.
Apparently Homme was too shaken to actually voice his own pass-on challenge; that came in the form of the on-screen text reading, "I officially challenge BONO ."
Any QOTSA fans looking to make a donation in Josh Homme's name can do so at ALSA.org . The Ice Bucket Challenge has so far raised more than $94 million for ALS research.
Copyright 2014 ABC News Radio