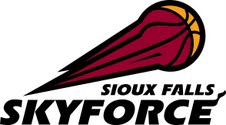 Des Moines, IA (KWSN) – The Iowa Energy fell to the Sioux Falls Skyforce 112-100 on Saturday night at Wells Fargo Arena.
The Skyforce took the first quarter, jumping out to the early lead behind Ryan Evans, who scored 7 of his 13 points in the quarter. Sioux Falls led 26-19 after the first.
The Energy dominated the second quarter, outscoring Sioux Falls 37-24. Patrick Christopher had 11 points in the quarter and Iowa took a 56-50 lead into halftime.
The third quarter was all Skyforce, as they held Iowa to just 11 points in the quarter, and led 79-67 at the end of three.
The Skyforce held off the Energy in the final quarter, despite Kalin Lucas scoring 14 of his team high 23 points in the quarter. The Skyforce improved to 17-9 on the season as they defeated the Energy 112-100. Iowa drops to 16-11 on the season.
Sioux Falls was led by Tre Kelley, who finished with a game high 26 points. Justin Hamilton had 22 points and 11 boards. DeAndre Liggins had 10 points and 11 rebounds.
The Energy was led by Lucas's 23 points. Augustus Gilchrist contributed 13 points and 12 boards off the bench. Larry Owens had 10 points and 11 rebounds.
Courtesy: Iowa Energy; sioux Falls Skyforce