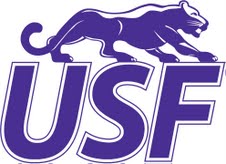 Sioux Falls, S.D. (February 1, 2014) – Junior guard Charles Ward scored 21 points as host Sioux Falls completed the Cougar basketball Alumni Day sweep by knocking off NSIC North leader Bemidji State 87-78 in front of an enthusiastic Stewart Center crowd.
With the win, the Cougars snapped the Beavers' 8-game winning streak. USF has now knocked off the first-place team in both the NSIC's divisions.
Ward sank a clutch three-pointer to help stem a late BSU rally and then went 3-for-4 at the line with 41 seconds left to give USF (11-9, 8-8 NSIC) a nine-point lead. Robert Goffney then hit a pair to both seal the win and snap the Beavers' eight-game winning streak. Bemidji had whittled a 15-point USF lead down to four with 1:48 to play, but Bryan Kielpinski took a feed from Goffney in the lane and tossed in a reverse layup to stifle the threat.
Bemidji State (15-5, 12-4) played from behind all night as the Cougars shot an impressive 56 percent from the field in the first half, hitting 8 of 16 3-pointers to take a 41-29 lead into the break.
Mack Johnson added a dozen points and got things rolling by scoring seven of those in the first half. USF never trailed and the game was only tied once at 9-all with nearly sixteen minutes remaining in the first half.
Derek Brown came off the bench to help the Cougars pad the lead in the latter stages of the contest. The senior shooting guard finished with 14 points, including seven in a span of 74 seconds late in the second half to extend USF's lead to 76-63 with 5:06 to play . The NSIC's best free throw shooter also went 6-for-6 at the stripe to improve his freebie shooting clip to 96-percent (48-for-50).
The Cougars shot 56 percent from the floor in the game, and were 13-for-28 from 3-point range. Jordan Stotts had 16 points for USF, hitting 4-of-9 from deep.
Bemidji State was led by Zach Noreen with a game-high 24 points. Jake Schalow added 17 on a perfect 6-for 6 shooting night and Maxie Rosenbloom finished with 14. The Beavers shot well, making 10 of their 25 3-point attempts and going an exceptional 16-for-17 at the line. Bemijdi's Brock Lutes entered the game leading the NSIC in scoring at 19.6 points per game, but the Cougar defense limited him to six points on 3-for-13 shooting.
The Cougars improved to 7-0 at home this season when leading at the half, and 10-2 at home overall. USF will take to the road for the next two weekends. They visit Concordia-St. Paul and Minnesota State-Mankato Feb. 7-8.