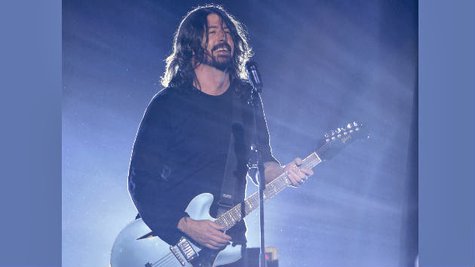 Foo Fighters fans can look forward to getting some information about the group's next album soon. During an interview with BBC Radio 1 's Zane Lowe , frontman Dave Grohl says he's just about ready to unveil his unique plan for making the follow-up to 2011's Grammy-winning album Wasting Light .
"We haven't really disclosed exactly what we are doing," he notes. "We're doing something that no one really knows about and we'll announce pretty soon I think. I know what it sounds like and I honestly think the entire concept is really going to take people by surprise and it sounds nuts."
While Grohl didn't reveal any other info about the upcoming record, he did comment on his recent win at the Grammys. The Foos frontman took home the award for Best Rock Song for "Cut Me Some Slack," his collaboration with Paul McCartney and his ex- Nirvana band mates Krist Novoselic and Pat Smear from his Sound City documentary. Grohl says he was happy to get the trophy, but is prouder that his film has helped to influence future musicians.
"My reward for that movie or project is that every single day someone comes up to me and says, 'Hey man I saw Sound City and it was really inspiring,' or musicians come up to me and say, 'Hey man I can't wait to get back together with my band and jam,'" he explains.
Copyright 2014 ABC News Radio