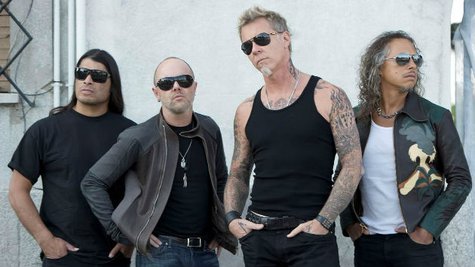 It's been nearly six years since fans have had a new album from Metallica . Though the band recently released a DVD, Through the Never , the last original Metallica tunes were heard way back in 2008, on Death Magnetic. The good news? Lars Ulrich tells Rolling Stone , "We're one day closer to the next record being released than we were yesterday. Unless there's what's called an 'Act of God,' I would hedge my bets that '201' would be the first three digits in the release year."
Guitarist Kirk Hammett tells the magazine that he and his band mates have been, "jamming along. We've been putting in some time. We've jammed on certain bits and pieces of music and figured out this piece of music works, this doesn't...but we're still going through that process. James [ Hetfield ] has 800 pieces of music. I have 400 pieces of music. Once we figure out what pieces of music are actually gonna work for us, then we're going to start turning those pieces of music into songs and seeing where that leads us."
For fans desperate for any small sliver of Metallica music, take heart: the band will unveil one new -- but still undecided -- song on its upcoming string of South American shows. The mini-tour is called Metallica by Request and will feature set lists determined almost exclusively by fans, except for that one new song.
After the South American dates end on March 30 in Argentina, Metallica has a two-month touring hiatus before playing a string of European festivals this summer.
Copyright 2014 ABC News Radio