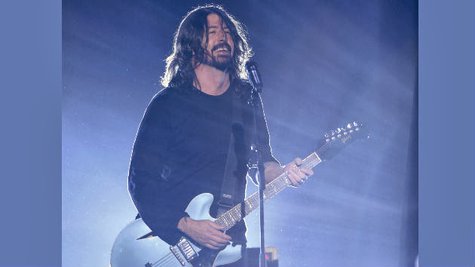 Tonight marks the 50th anniversary of The Beatles ' legendary first appearance on The Ed Sullivan Show . That moment will be celebrated with a special called The Beatles: The Night That Changed America -- A Grammy Salute , airing this evening at the same time and on the same network --8 p.m. ET on CBS -- that aired the original performance.

Foo Fighters frontman Dave Grohl and Imagine Dragons are among the star-studded cast of contemporary artists who will be singing Beatles classics on the special. Grohl will make two appearances. He'll join with producer and former ELO frontman Jeff Lynne for a performance of "Hey Bulldog," and he'll be part of an all-star rendition of "While My Guitar Gently Weeps" with guitarists Joe Walsh and Gary Clark, Jr.

Imagine Dragons are performing a stripped-down rendition of "Revolution." The show's executive producer, Ken Ehrlich , tells ABC News Radio, "It's pretty unplugged, but they really capture it. Their harmonies are great."
It turns out that Imagine Dragons was a late addition to the special's lineup. Ehrlich explains that the band's appearance on the Grammy telecast, which he also produced, led directly to the appearance on the Beatles show.
"I didn't have them booked until about three or four days before we did this," he says. But after working with them on the Grammys he says he found out, "Number one, they're really good guys and, number two, musically, they, they're a really interesting act, I thought they'd be great for us."

Of course, the highlight of the evening is expected to be rare reunion performance by surviving Beatles Paul McCartney and Ringo Starr .
Copyright 2014 ABC News Radio