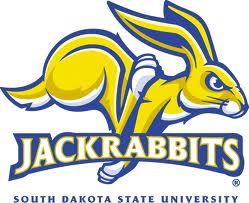 Brookings, SD (KWSN) - A balanced South Dakota State offense and a stout defense allowed the Jackrabbits to cruise to a dominating 83-59 win over IUPUI in the 42nd Annual Pork Classic in front of 3,393 fans at Frost Arena on Saturday.
The Jackrabbits fourth straight win boosts their record to 14-10 overall and to 5-3 in The Summit League, while the visiting Jaguars fall to 5-21 overall and to 0-9 in league play.
"I though defensively our kids did a really good job of focusing and really doing what we asked them to do," head coach Scott Nagy said. "We just did a good job of not overlooking these guys and taking care of business."
The Jaguars led for a brief moment at 6-5, but the Jackrabbits scored on their next possession to go up 7-6 less than five minutes into the game, the start of a 10-2 SDSU run, and never trailed again.
IUPUI cut the lead to five points at 23-18 with just over seven minutes to play in the first half, but SDSU outscored the Jaguars 19-9 over the rest of the half to take a 42-27 lead into the locker room at halftime.
Up 60-41 with just under 12 minutes to play, the Jackrabbits removed all doubt about the outcome of the game with a 14-2 run that ended with the Jacks up 31 points at 74-43 with 7:24 on the clock.
Eight different Jackrabbits scored at least six points in the win, with Jordan Dykstra leading the way with 17 points, including a perfect 8 for 8 mark from the free throw line. Brayden Carlson added 14 points and Cody Larson 13 points to go with his game-high seven rebounds. Jake Bittle also tied for game-high honors with seven rebounds, which marks a new career-high for the sophomore.
IUPUI's Khufu Najee led all players in the game with 19 points, with Mitch Patton adding 12 more in the loss.
The Jackrabbits take their four game winning streak on the road for the next three games, starting at Omaha on Thursday, followed by a game at Western Illinois on Saturday. Both contests tip at 7 p.m.
NOTES: SDSU improves to 10-6 all-time against IUPUI, with wins in the last nine meetings ... SDSU also improves to 1-0 against the Jaguars in the Pork Classic ... SDSU improves to 32-10 all-time in the Pork Classic ... IUPUI tied a pair of Pork Classic records in the loss; tying UMKC (2/6/10) for fewest field goals made with 19, and tied Northern Iowa (1/12/74) for fewest assists with six ... SDSU committed a season-low four turnovers in the game, their fewest in a game since committing three against IUPUI in the first round of the Summit League Championships on March 9, 2013 ... SDSU improves to 10-1 this season when holding its opponents to fewer than 70 points in a game ... Dykstra moved from sixth to fifth on the all-time scoring list, finishing the game with 1,550 career points, passing Steve Brown (1,534 points from 1974-78) ... Chad White moved from 23rd to a tie for 22nd on the all-time scoring list with 1,128 career points, tied with John Thomas (1966-69) ... Carlson moved from a tie for 41st on the all-time scoring list to 39th all-time with 1,024 career points ... Bittle's career-high seven rebounds tops his mark of six, set in the season-opener at San Diego on Nov. 8 ... Zach Horstman scored a season-high nine points in playing a career-high 21 minutes.
Courtesy: South Dakota State University