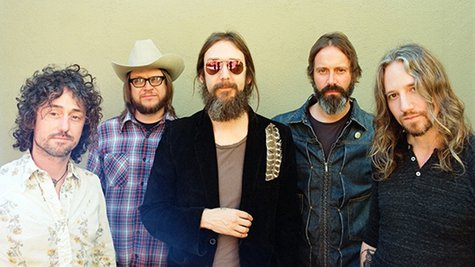 Chris Robinson Brotherhood is set to release a new studio album in April. Called Phosphorescent Harvest , the collection will mark the third studio album from the group, in addition to the four-album vinyl set they dropped last year called Betty's S.F. Blends, Vol. 1 . The first single from the new album is Shore Power and it's being streamed on Rolling Stone .
In a record company statement, the Black Crowes frontman reveals that songwriting allows him to process the emotional complexities of his life. He says, "The best perspective I have on what's going on in my life -- good and bad -- is what comes out in the songs. As you...get older, you have relationships. Some of them are good, some fail. Friends. Drugs. Life. Death. People come, people go. Songwriting is a completely different emotional response to your life."
Phosphorescent Harvest will drop on April 29, on CD and vinyl -- the vinyl come with a bonus 7-inch, with an extra song. Chris Robinson Brotherhood will kick off a supporting tour on May 12.
Tour dates are as follows:
4/12 -- Live Oak FL, Wanee Festival
4/13 -- Tampa FL, The Ritz
4/18 -- Winston-Salem NC, Ziggy's
4/19 -- Wilmington NC, Ziggy's By the Sea
4/20 -- Atlanta GA, Sweetwater 420 Festival
4/29 -- San Rafael CA, Terrapin Crossroads
4/30 -- San Rafael CA, Terrapin Crossroads
5/1 -- San Rafael CA, Terrapin Crossroads
5/3 -- Big Sur CA, Henry Miller Library
5/4 -- Big Sur CA, Henry Miller Library
5/6 -- Crystal Bay NV, Crystal Bay Club Crown Room
5/8 -- Ashland OR, Historic Ashland Armory
5/9 -- Portland OR, Wonder Ballroom
5/10 -- Seattle WA, Neumos
5/13 -- Missoula MT, The Top Hat
5/14 -- Bozeman MT, Emerson Cultural Center
5/16 -- Denver CO, Cervantes Masterpiece Ballroom
5/17 -- Denver CO, Cervantes Masterpiece Ballroom
5/20 -- Boise ID, Knitting Factory Concert House
5/23 -- Solana Beach CA, Belly Up Tavern
5/24 -- Pioneertown CA, Pappy & Harriet's
Copyright 2014 ABC News Radio