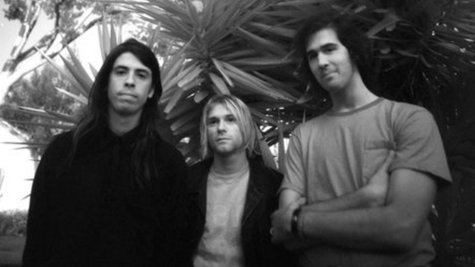 Nirvana only released three official studio albums -- 35 songs in total -- during its short career, not including bonus tracks on reissues. But that hasn't stopped Rolling Stone from scouring the band's B-sides, bonus tracks, covers, bootlegged originals, home demos, radio sessions and taped experiments to assemble a list -- from best to worst -- of a total of 102 Nirvana songs.
It is perhaps no surprise that the band's breakthrough 1991 hit, "Smells Like Teen Spirit," comes in at #1. "Almost immediately, 'Smells Like Teen Spirit' changed the firmament of American culture like no song since [ Bob ] Dylan 's 'Like a Rolling Stone," writes the magazine , adding that "[ Kurt ] Cobain 's desiccated blasts of feedback [blew] open the doors for alternative culture."
"In Bloom," also from Nevermind , comes in at #2, while the 1990 non-album single "Sliver" -- which features Mudhoney drummer Dan Peters , and not Dave Grohl -- is #3.
Rounding out the top five are two more Nevermind tracks, "Breed," which is described as "the band giving into their most animalistic impulses, channeled on distortion in free fall," and the album's closing tune, "Something in the Way," which Rolling Stone describes as an example of Cobain's "fascination with utter debasement."
Rounding out the top 10, in order from #6 to #10, are "Dive," "Lithium," "About a Girl," "Drain You" and "Where Did You Sleep Last Night," Nirvana's cover of a traditional murder ballad commonly known as "In the Pines," from their legendary 1994 MTV Unplugged appearance.
Copyright 2014 ABC News Radio