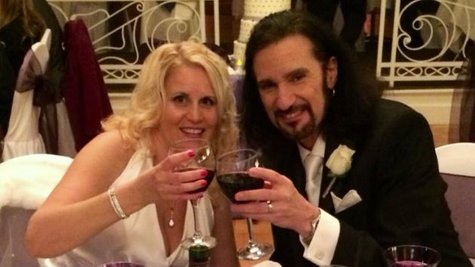 Congratulations to former KISS guitarist Bruce Kulick , who married his fiancée, Lisa Lane , in Los Angeles on Friday. In a message posted Sunday on the 60-year-old rocker's official Facebook page, Kulick wrote, "It was a magical day, with many wonderful memories to share. Off for my Honeymoon, and some great photos I will be sharing soon."
Attached to the note was a photo of Bruce's and his new bride's hands -- sporting their wedding rings, of course. Kulick also posted another pic showing his wife and him at the reception, raising a glass of wine sitting at their "sweetheart table."
Kulick's ex-KISS band mates Paul Stanley , Gene Simmons and Eric Singer all attended the nuptials, and each musician commented on the event in separate online posts.
Stanley took to his Twitter account on Friday to tweet , "My congrats to you and wishing you a beautiful life together!" along with an apparent snapshot of the wedding program. Paul also posted a "selfie" of him and his wife, Erin , at the reception.
Simmons also sent out some Twitter messages on Bruce's wedding day, including one that read , "All the very best to Bruce Kulick and his lovely bride Lisa on their wedding day. A great party."
Lastly, Singer uploaded a photo to his official website that shows him signing Bruce and Lisa's marriage certificate as the happy couple look on.
Kulick was a member of KISS from 1984 to 1996. He joined Grand Funk Railroad in 2001.
Copyright 2014 ABC News Radio