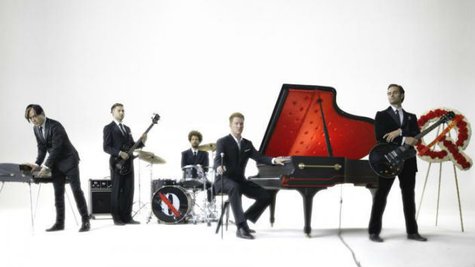 It may have taken Queens of the Stone Age six years to put out their most recent album, 2013's ...Like Clockwork , but frontman Josh Homme doesn't think we'll have to wait that long to get the band's next record. The singer says he hopes to begin recording new material with the guys after they finish touring later this year.
"We have more than enough songs [for our next album]," he tells Rolling Stone . "We're booked [until] September, but after that we plan to jump in the studio and get going."
Homme adds that some of his favorite memories have been in the studio making new music, and he can't wait to get back in there to recapture the magic. "When it's time to make music, that's about getting lost for me," he explains. "To be a control freak is not half as good as being a freak who's casually in control. You're feeling around in the dark for something that feels good. As long as you're not in an orgy, that can be an amazing moment."
Queens of the Stone Age will continue the next leg of their North American tour on January 30 at the Memorial Auditorium in Raleigh, NC. Visit QOTSA.com to view the full itinerary.
Copyright 2014 ABC News Radio