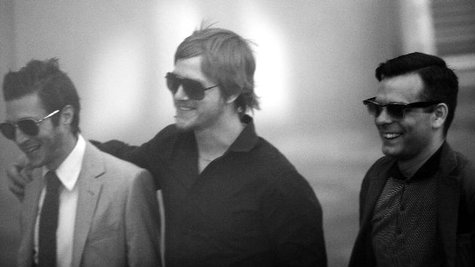 Interpol recently announced they'll be putting out a new album and returning to the road this year. Guitarist Daniel Kessler says the group needed to go on hiatus for a few years so they could recharge their batteries following their lengthy tour to support 2010's self-titled album.
"There was never any sense that we'd come to a breaking point or anything but if you play 200 shows and tour as hard as we did, you need time to get back to other elements of life, and start thinking about new songs," he tells NME .
Kessler adds he's excited to release the new material, noting the quality of the songs was the main reason the band decided to reunite this year. "We're never lacking ideas or inspiration," he explains. "We got back together because we felt that some of these songs had a certain urgency. It feels new again."

A release date for Interpol's fifth studio album has yet to be announced. It's likely the band will showcase some of the new material when they perform at the upcoming Governors Ball Music Festival, which will be held June 6-8 on New York City's Randall's Island. Other acts set to take the stage at the event include Jack White , The Strokes , Vampire Weekend , Phoenix , Foster the People , TV on the Radio , Spoon , Broken Bells , Blur frontman Damon Albarn , former Rilo Kiley singer Jenny Lewis and Bastille , as well as a set by Strokes frontman Julian Casablancas .
Copyright 2014 ABC News Radio