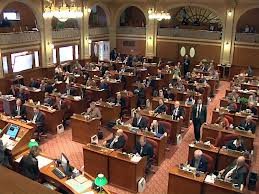 Sioux Falls, SD (KELO-AM) South Dakotans For Alternatives Against The Death Penalty is lobbying strongly in Pierre this session in support of a bill to abolish the death penalty in South Dakota.
The group's director, Denny Davis puts their opposition this way: murdering someone who murdered is puting yourself in the same position as the murderer.
Davis says he contacted State Representative Steve Hickey (R) of Sioux Falls about 6 or 7 months ago to ask him to sponsor legislation to abolish the death penalty. Hickey, once a death penalty supporter, says he had a change of heart and mind after much prayer and reviewing the bible. Hickey's bill would seek to have first-degree murder reduced to life in prison without parole.
Davis says this is not a political issue, its a life issue and he is urging South Dakotans to contact their lawmakers to support the legislation.