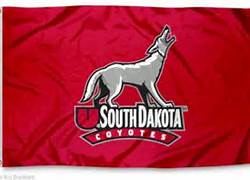 Vermillion, S.D. (KWSN) -- South Dakota senior Karim Rowson and sophomore Emily Grove have been named co-Coyote Athletes of the Week for the period ending Jan. 19.
In a battle against Fort Wayne for first place in the Summit League, Rowson scored a career-high 21 points and snagged nine rebounds to lead the Coyotes to a 75-61 victory.
South Dakota led 33-23 at halftime in the DakotaDome and by 21 points at two different times in the second half. Fort Wayne drew within 11 at 64-53 behind back-to-back three's by Evans with six minutes to go. Neither team scored in the next 2 minutes, 40 seconds. Rowson ended the drought with two free throws and scored in the lane on the next possession to push the lead back to 15.
Rowson was 6 of 10 from the field, 3 of 3 from beyond the arc and 6 of 6 from the free-throw line. His nine boards were a season high. He also had two assists and two steals.
Rowson is a native of New York City, N.Y., and a general studies major.
Meanwhile in Reno, Nev., Grove vaulted 14 feet, 5 1/4 inches to win the collegiate division of the National Pole Vault Summit.
The results from the Summit do not qualify towards the NCAA standings, but if they had her mark would have been the top vault in the nation by four inches. The mark is also a personal best for Grove by three inches.
Grove is a native of Pontiac, Ill., and a kinesiology and sports science major.
About the Coyote Athlete of the Week: Each week the South Dakota sports information department selects a stand-out performance by a student-athlete to be featured on GoYotes.com.