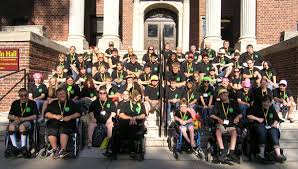 PIERRE, S.D.(KELO-AM) – South Dakota has joined forces with five other states to improve the educational and employment outcomes of youth with disabilities.
The state Department of Human Services (DHS) will collaborate with similar agencies across state lines in a joint federal initiative to design and implement interventions for youth ages 14 to 16 who receive Social Security Supplemental Security Income. Through an experimental design, this five-year, multimillion-dollar project will provide interventions to positively impact the youths' education and employment as well as the overall household income of their families.
"We are continually looking for ways to enhance the quality of life of South Dakotans with disabilities," DHS Secretary Gloria Pearson said. "So we are extremely pleased to be part of an initiative that will design cutting-edge programs to help educate and employ at-risk youth with disabilities while strengthening their families."
State agencies in Arizona, Colorado, Montana, North Dakota, South Dakota and Utah formed a consortium – Achieving Success by Promoting Readiness for Education and Employment (ASPIRE) – and were awarded a $32.5 million U.S. Department of Education grant. South Dakota's portion will be $2.26 million over five years and will help pay for the hiring of at least four employees to staff the program. Five other states were awarded grants under the Promoting the Readiness of Minors in Supplemental Security Income (PROMISE) initiative. Meetings began in late 2013 among all PROMISE states regarding the direction and implementation of projects.
ASPIRE plans to enroll a total of 2,000 low-income youth with disabilities, including a targeted enrollment of 120 in South Dakota. Recruitment of teens and their families will begin as early as February. The ASPIRE enrollment group will include rural, frontier and tribal youth receiving SSI, setting it apart from similar efforts in Arkansas, California, Maryland, New York and Wisconsin, where urban and suburban populations are being targeted.
The terms of the federal grant mean that 1,000 of the 2,000 teens and their families who enter the program will be offered case management, benefits counseling, financial capability training, career and work-based learning experiences, and parent information and training over the course of five years. The two groups, those who were offered the additional services and those who receive existing services, will be compared at the end of five years to determine the effectiveness of the program.
"All children deserve a chance to achieve their educational and career goals," said Secretary of the U.S. Department of Education Arne Duncan. "The PROMISE initiative provides services and support to help our most at-risk students and their families so that they can focus on their education and a brighter future."
About DHS
The South Dakota Department of Human Services' mission is to enhance the quality of life of people with disabilities, in partnership with its stakeholders, through the programs and services offered by its divisions. Learn more by visiting the department's website, dhs.sd.gov, and viewing the DHS Strategic Plan.