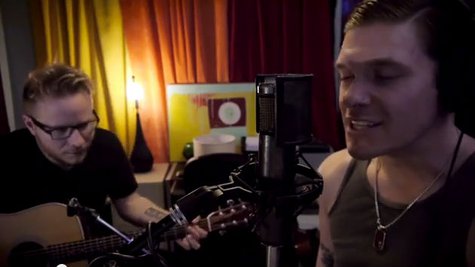 Shinedown frontman Brent Smith and guitarist Zach Myers are giving us another taste of their new acoustic EP, (Acoustic Sessions) .
The duo, who have taken the moniker Smith & Myers , have posted performances of Metallica 's " Nothing Else Matters " and Pearl Jam 's " Black " on Shinedown's YouTube channel. While their Metallica cover will be featured on the upcoming release, the Pearl Jam cut won't. Smith recently revealed he tried to get permission to release their version of "Black" on the EP, but Eddie Vedder and the guys turned them down, so the only place you can get it is online.
"Some of the artists were cool with letting us put [the videos up] and some weren't, and that's totally their decision," he tells Billboard . Smith adds he and Myers plan to record four more acoustic covers in the future, which he expects will hit stores sometime later this year.
The (Acoustic Sessions) EP will arrive at all the usual outlets on Tuesday. Here's the track list:

"London Calling" (Originally Performed by The Clash)
"(Sittin' On) The Dock of the Bay" (Originally Performed by Otis Redding)
"Nothing Else Matters" (Originally Performed by Metallica)
"She Talks to Angels" (Originally Performed by Black Crowes)
"Blue on Black" (Originally Performed by Kenny Wayne Shepard)
"Runaway Train" (Originally Performed by Soul Asylum)
Copyright 2014 ABC News Radio