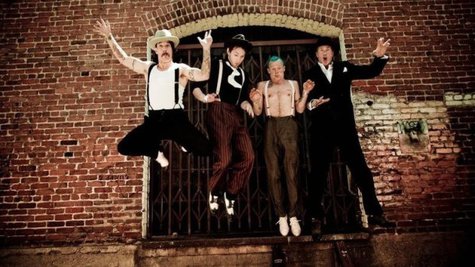 Red Hot Chili Peppers drummer Chad Smith has set the record straight regarding statements he made recently that the band will be playing Led Zeppelin 's "Dazed and Confused" during their performance for the Super Bowl halftime show.
Smith says he was only joking when he told reporters at a recent event that the guys would be covering the Zeppelin classic. "I'm on the red carpet, and someone asked, 'Super Bowl -- what song are you gonna play?'," he tells Billboard . "It's supposed to be a surprise. So I'm like, 'Oh, we're doing the live version of 'Dazed and Confused' by Led Zeppelin -- and they ran with it!"
The drummer reveals the band will actually be playing a Chili Peppers song for their three-minute appearance during halftime show headliner Bruno Mars ' set, although he is staying mum on which song that will be. Smith adds that while the band is known for their wild onstage antics, you shouldn't expect to see the guys do anything too crazy during their performance.
"We're playing nice, and they don't leave anything to chance," Smith declares. "Everything is all rehearsed. Maybe a nipple might slip -- you never know. Is that acceptable? If they see [frontman] Anthony [ Keidis ]'s nipple, do you think they're gonna cut away quickly to Diana Ross in the crowd or something?" That of course is a reference to the infamous "wardrobe malfunction" involving Janet Jackson during the 2004 Super Bowl halftime show.
Smith notes the next big project for the band is to begin working on the follow-up to 2011's I'm With You . "We're just starting out now, just getting together," he explains. "We're gonna take a little different approach to the writing process, but for the most part when we all get together, that's when it really starts. We're all looking forward to that."
Super Bowl XLVIII will air live on CBS on Sunday, and the game is scheduled to begin at 6:30 p.m. ET.
Copyright 2014 ABC News Radio