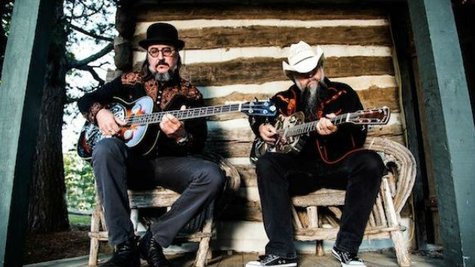 Can't wait to hear Les Claypool's Duo de Twang 's debut album , Four Foot Shack ? No worries. The guys have posted a stream of every song from the upcoming release on RollingStone.com .
Four Foot Shack will arrive at all the usual outlets on February 4. The record includes one new track, along with a variety of covers from Claypool's own catalog and cuts from Alice in Chains , The Bee Gees , 1960s rockers The Chantays , and late country singer/songwriter Jerry Reed .
"This record represents what I personally listen to these days," Claypool tells Rolling Stone . "Guys like [country music singers] Johnny Horton , Jerry Reed and Vernon Dalhart are the soundscape of my world as I'm boiling up crab in the backyard or working on my old Chryslers, so the notion of 'twangifying' my tunes seemed like a damn good idea."
Here's the track list for Four Foot Shack :
"Four Foot Shack" (Originally performed by Les Claypool's Duo de Twang)
"Wynona's Big Brown Beaver" (Originally performed by Primus)
"Amos Moses" (Originally performed by Jerry Reed)
"Red State Girl" (Originally performed by Les Claypool)
"The Bridge Came Tumblin' Down" (Originally performed by Stompin' Tom Connors)
"Boonville Stomp" (Originally performed by Les Claypool)
"Stayin' Alive" (Originally performed by Bee Gees)
"Rumble of the Diesel" (Originally performed by Les Claypool)
"Pipe Line" (Originally performed by The Chantays)
"Buzzards of Greenhill" (Originally performed by Les Claypool's Fearless Flying Frog Brigade)
"Hendershot" (Originally performed by Les Claypool's Fearless Flying Frog Brigade)
"Man in the Box" (Originally performed by Alice in Chains)
"D's Diner" (Originally performed by Les Claypool's Fearless Flying Frog Brigade)
"Battle of New Orleans" (Originally performed by Johnny Horton)
"Jerry Was a Race Car Driver" (Originally performed by Primus)
Copyright 2014 ABC News Radio