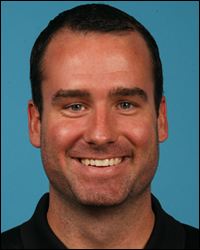 Sioux Falls, SD (KWSN) - Multiple outlets, including Yahoo! Sports' Adrian Wojnarowski, have reported that Sioux Falls Skyforce head coach Pat Delany has accepted an assistant coaching position with the Charlotte Hornets under head coach Steve Clifford.
Delany served as head coach of the Force for one season and lead the team to a 31-19 record and a berth in the D League semifinals. Delany also served as a scout with the Miami Heat and spent time with the Boston Celtics.
Clifford and Delany are both products of St Anselm College an NCAA Division II school in New Hampshire, and head coach Keith Dickson. Clifford began his coaching career at the school in the 1980's while Delany played for the Hawks from 1998-2002.
Delany was hired as coach of the Force shortly after the team entered into a hybrid affiliation partnership with Miami, which means the HEAT will be responsible for finding Delany's replacement.