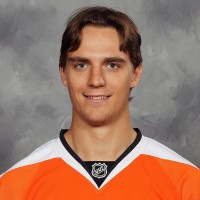 Raleigh, NC (KWSN) - Former Sioux Falls Stampede captain Ben Holstrom has signed a one-year, two-way contract with the Carolina Hurricanes. Holstrom is entering his 5th season of professional hockey; most of that time has been spent with the Adirondack Phantoms, the top minor league affiliate of the Philadelphia Flyers. The Colorado Springs, CO, native totaled 13 goals, 19 assists (32 points) and 146 penalty minutes, ranking fourth among Phantoms skaters in points and fifth in goals and penalty minutes. Holmstrom (6'1", 197 lbs.) was recalled by the Philadelphia Flyers on April 23 and served as a black ace during the team's opening-round playoff series against the New York Rangers.
Since his Stampede carreer ended in 2006, Holstrom played collegiately at UMASS-Lowell, where he scored 26 goals and 8 assists in 144 games with the River Hawks. The Flyers signed him as a collegiate free agent. Carolina will be just his second professional team.
The contract will pay Holstrom $600,000 at the NHL level and $400,000 for the minor league level.
Holstrom appeared in 7 games with the Philadelphia Flyers from 2010-2012. A knee injury sidelined him for much of the 2012-2013 season.
Courtesy: Carolina Hurricanes.