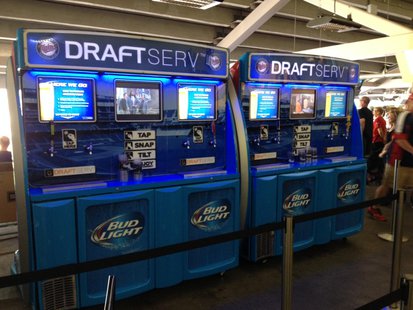 Minneapolis, MN (KWSN) - Just in time for next week's All-Star Game, Target Field has installed brand new self-service beer vending machines. Delaware North, which handles concessions for the Twins' Stadium, says the machines a first for Major League Baseball, and that they are not aware of any like it in the NBA, NFL, NHL, or MLS.
Fans must first have their ID's verified by a concessions worker and purchase a card worth up to $20 to use the machine. The card may be used to purchase Bud, Bud Light, Shock Top Lemon Shandy, or Goose Island 312 UPA at a price of .38 cents per ounce for the Bud products or .40 cents per ounce for the craft beer. Attendants are on hand to keep the lines moving and to guard against underage sales. The machines will limit customers to 20 ounces of beer in a single transaction and 48 ounces of the golden goodness every 15 minutes.
According to the Minneapolis Star Tribune, the first day of beer sales at the machines went fairly smoothly, with about 200 of the vending cards sold. Prices are expected to stay the same for the rest of the season, including the All-Star Game, however for Paul McCartney's concert at the stadium in August prices will go up to cover city taxes on musical events.