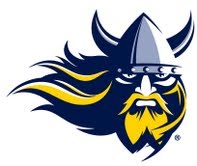 KANSAS CITY, MO (KWSN). – The National Association of Basketball Coaches (NABC) announced today that Augustana's Evan Pierce and Isaac Jorgensen have been named to the 2013-14 NABC Honors Court.
The NABC Honors Court recognizes the talents and gifts that these men possess off the court and the hard work they exhibit in the classroom. In order be named to the Honors Court, a student-athlete must have a 3.20 grade-point average or higher.
Pierce played in all 30 games for Augustana last season averaging 3.1 points per game while shooting 46.2 percent from the field and 50 percent from 3-point range.
Pierce, a business administration major, was a two-time Academic All-NSIC honoree for the Vikings.
Jorgensen, an exercise science major, joined the men's basketball program for the second semester last season and played in 19 games averaging 2.3 points and 1.4 rebounds. He earned Academic All-NSIC honors last season after spending four seasons on the Augustana football team where he was a three-time All-NSIC performer and three-time Academic All-NSIC honoree.
Located in Sioux Falls, S.D., Augustana College is a member of NCAA Division II and competes in the Northern Sun Intercollegiate Conference.
Courtesy: Augustana College