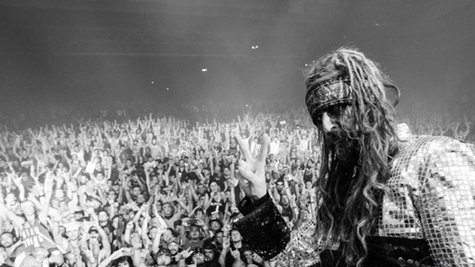 Rob Zombie is bringing his brand of scary to the Chicago area this fall. The musician and filmmaker's Halloween-themed Great American Nightmare will take place on select nights from September 26 through November 1 at the Odeum Expo Center in Villa Park, Illinois, with Zombie scheduled to perform on opening night.
"I am thrilled to be able to expand the Great American Nightmare to two new cities this year," said Zombie in a statement, referring to a slightly different version of the event that's taking place in Scottsdale, Arizona. "My only goal is to make it twice as sick as last year."
The Illinois edition will include three attractions based on Zombie's horror movies. Those attractions -- dubbed The Lords of Salem in Total Black Out, The Haunted World of El Superbeasto 3D, and Haunt of 1,000 Corpses -- are enhanced versions of the ones that were part of the 2013 Great American Nightmare that took place in Pomona, California.
Tickets for the Illinois run go on sale July 30 through GreatAmericanNightmare.com and start at $45 for opening night and $25 for all other nights.
Follow @ABCNewsRadio
Copyright 2014 ABC News Radio