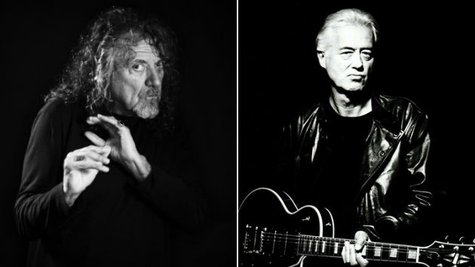 In a recent New York Times interview, Jimmy Page expressed frustration over Led Zeppelin band mate Robert Plant 's negative attitude toward another reunion by the group. Now, Plant has responded to those comments, and what he said likely will disappoint Led Zeppelin fans
"I think he needs to go to sleep and have a good rest, and think again," said Plant. "We have a great history together and like all brothers we have these moments where we don't speak on the same page, but that's life."
United Arab Emirates newspaper The National reports that Plant made the comments in answer to a question at a press conference Wednesday, promoting the scheduled performance of Plant's new band, the Sensational Space Shifters , at Morocco's Mawazine Festival.
As for Page's specific comments to The New York Times , the guitarist said, "I was told last year that Robert Plant said he is doing nothing in 2014, and what do the other two guys think? Well, he knows what the other guys think. Everyone would love to play more concerts for the band." He's just playing games, and I'm fed up with it."
Describing the sound of his upcoming new album with the Sensational Space Shifters, Plant said, "The new music that I am making is a melange of my travels through the more beautiful places and with the most beautiful people of the music world. When you put all of this together you get a very happy and very stimulating combination."
Follow @ABCNewsRadio
Copyright 2014 ABC News Radio