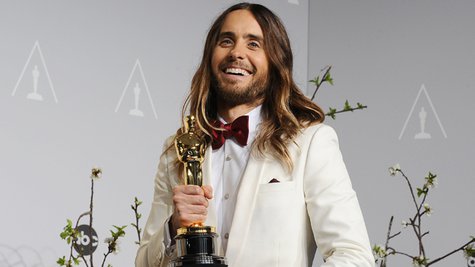 30 Seconds to Mars has won several MTV Video Music Awards, but frontman Jared Leto can now say that he's an Oscar winner. The singer/actor took home the Academy Award for Best Supporting Actor Sunday night for his role as Rayon, an HIV-positive transgendered woman, in Dallas Buyers Club.
Taking the podium to accept his award, Leto gave a heartfelt speech about his mom, who came with him to the awards as his date. "There was a teenage girl who was pregnant with her second child and she was a high school dropout, and was a single mom, but somehow she managed to make a better life for herself and her children," he told the star-studded audience.
"She encouraged her kids to be creative and work hard and to do something special," he continued. "That girl is my mother and she's here tonight and I just want to say I love you mom and thank you for teaching me to dream."
Referring to the plot of Dallas Buyers Club, which is about a heterosexual man diagnosed with AIDS who fights for better access to life-saving drugs, Leto said, "This is for the 36 million people who have lost the battle to AIDS and to those of you out there who have ever felt injustice because of who you are or who you love, tonight I stand here in front of the world for you. Thank you so much."
Backstage, Leto, who told ABC's Good Morning America that he had auditioned for the role of Rayon via Skype, immediately won the press over by passing his Oscar around and urging them to "fondle" it. "I bet this is the first time someone has given away their Oscar for an orgy in the press room," he cracked. He also said that it "wasn't even a fantasy" of his to win, because the idea of taking home an Oscar was "so far-fetched."
Explaining why he thanked his mother, he told reporters, "She's everything...she has inspired me in ways that I could talk about for days."
In addition to Leto, there were a few other rockers on hand for the telecast, though no others went home with trophies. U2 received a standing ovation for an acoustic performance of their nominated song "Ordinary Love," from Mandela: Long Walk to Freedom , while Karen O of the Yeah Yeah Yeahs tapped Vampire Weekend 's Ezra Koenig to accompany her for a low-key acoustic rendition for "The Moon Song," from the movie Her. However, they lost the Best Original Song to "Let It Go," the anthem from the Disney film Frozen .
Pharrell Williams also performed on the telecast, wearing his famous hat and getting stars like Meryl Streep up and dancing to his #1 nominated song "Happy."
The documentary 20 Feet from Stardom, which shines the spotlight on famous backup singers in pop and rock music, was named Best Documentary feature. When legendary vocalist Darlene Love , who's featured in the film, took the podium, she belted out the gospel hymn "His Eye Is on the Sparrow."
Copyright 2014 ABC News Radio