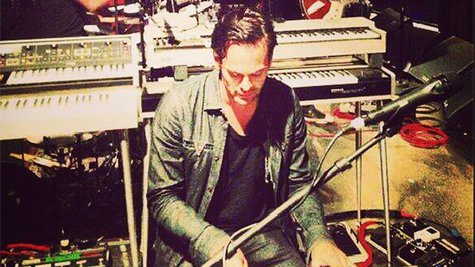 When things aren't going your way in the recording studio, Elton John and Dave Grohl can turn it all around -- that's a lesson learned by Queens of the Stone Age .
In an interview with Australia's The Vine , QOTSA keyboardist and guitarist Dean Fertita reveals that he and his band mates had hit a rough patch laying down tracks for their latest album, ...Like Clockwork. " When Elton came in to play, we were having a really bad stretch for a few days," Fertita says. "But he came in and Dave [Grohl] came in and it completely turned the whole session around."
The energy that Grohl and Elton brought to the session was more important than the sound. "What I
think is cool about it is that you have all these people on there but it might be hard to distinguish where they are on the record," Fertita says. "Like, if nobody told you this person was on the record, you wouldn't know they were there. So it's not like Queens featuring this person or whatever. We played our songs and they adapted to what Queens do and we just made this thing together."
The band is touring Down Under throughout March. They'll return to the U.S. for a string of dates beginning April 15 in Portland, OR, before heading to Europe at the end of May where they'll remain for a string of summer shows.
Copyright 2014 ABC News Radio