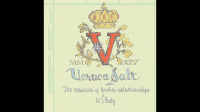 Veruca Salt , best known for their '90s song " Seether " -- whose title inspired the name of the current band Seether -- is back. The grunge-pop band will release its first new music in 14 years, featuring the original 1993 lineup -- Nina Gordon, Louise Post, Jim Shapiro and Steve Lack .
The 10-inch EP will feature "Seether" on the front and two new songs on the b-side: "The Museum of Broken Relationships" and "It's Holy." The new songs were produced by Veruca Salt and Brad Wood , who also produced the band's 1994 smash debut, American Thighs .
The vinyl slab will be released on Record Store Day, April 19.
Copyright 2014 ABC News Radio