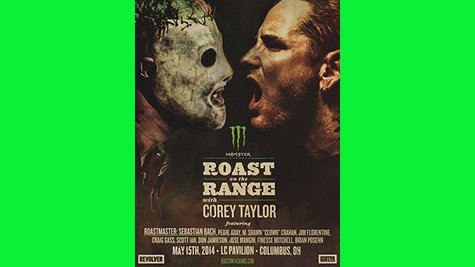 Corey Taylor will be the focus of "Roast on the Range," an evening of love and lampooning by some of his nearest and dearest. The Slipknot singer, who's also the frontman of Stone Sour , will be ridiculed by a wide variety of folks, including roastmaster Sebastian Bach , Slipknot colleague Shawn "Clown" Crahan , Scott Ian of Anthrax , and comedians including Jim Florentine , Don Jamieson , and Brian Posehn .
Taylor tells ABC News Radio that he's already got lots of experience being made fun of -- he gets it at home constantly from his 11-year-old son, whose computer skills far exceed Corey's. "He pulls stuff up [on the computer] all the time," says Taylor, "and I'm like, 'Where did you find this?', and it's almost like a 'duh' look that he gives me. It's just like, 'How do you NOT know where this is?' and I'm like, 'Uhhhhh, oh great.'"
The Roast on the Range will be sandwiched between Taylor's other projects, including studio time with Slipknot. Though he confirmed to ABC News Radio that Slipknot is indeed recording what will be their first new album in almost six years, Corey's remaining secretive about the details. He says that's because he wants people's excitement to build for the project.
"It seems like people expect instant gratification, and that's just not the way the world works," he says. "You appreciate things so much more when there's a sense of earning it, and there's a sense of finding something and waiting for it."
"Roast on the Range" will take place on May 15 at the LC Pavilion in Columbus, OH. Details and ticket information are at RoastontheRange.com .
Copyright 2014 ABC News Radio