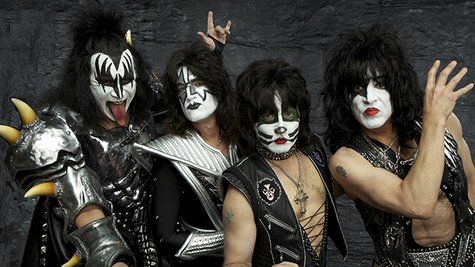 The fur continues to fly between KISS and the Rock and Roll Hall of Fame.
Here's the story so far: after 14 years of eligibility, KISS was announced as one of this year's inductees. Everyone involved seemed happy until the Hall asked only the original KISS lineup, which is the lineup being inducted, to play at the induction ceremony.
Then Gene Simmons and Paul Stanley -- the two founding members who are still in the band -- decided that none of KISS would play, rather than limiting the performance to the original four. Six other musicians have worked with KISS since the departure of the two other founding members -- Ace Frehley and Peter Criss , who have expressed their dismay at being shut out from playing at the ceremony. Simmons and Stanley have defended their decision, criticizing at the Hall for its decision-making over the years about who would and would not be inducted from different band lineups.
A spokesman for the Rock and Roll Hall of Fame, Joel Peresman , has broken the Hall's silence on the matter telling Billboard , "This isn't chemistry or physics; it's not an exact science. Sometimes there's an entire body of work up until (the artists) are inducted, other times it's a specific period of time that established the band as who they are. With KISS there wasn't one person [at the Rock and Roll Hall of Fame] who didn't agree that the reason KISS was nominated and is being inducted was because of what was established in the '70s with Ace, Peter, Paul and Gene. That's what put them on that map."
Paul Stanley issued a rebuttal shortly afterward, calling Peresman's statement "nonsense and half truths" and saying, "There is no getting around the reality that the Hall of Fame's favoritism and preferential treatment towards artists they like goes as far as ASKING the Grateful Dead how many members THEY wanted the hall to induct and following their directive while also including a songwriter who was never in the actual band."
Paul Stanley has promised to behave "gracious[ly]" at the induction, set for April 10 at the Barclays Center in Brooklyn, NY.
Copyright 2014 ABC News Radio