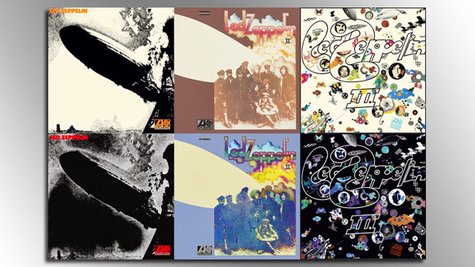 In researching and selecting the bonus tracks that will appear in the upcoming reissues of Led Zeppelin 's albums, guitarist Jimmy Page says he "left no stone unturned" and made a point to avoid previously circulated material.
"I didn't want to put together a compilation where 90 percent of it had been bootlegged," Page explains to Rolling Stone . "I asked a guy that runs one of the fanzines if he's heard any of this material before. He told me he hadn't. That was a really good feeling."
The Zeppelin reissue roll out begins June 3 with deluxe editions of the band's first three studio albums. According to Page, the "companion discs" of bonus material that accompany each album "comprise work done around the exact time of each album. They are fascinating to hear, and they hold up alongside the original albums."
Although no release date has been set for forthcoming reissues of Zeppelin's later albums, work on those is complete, the guitarist tells Rolling Stone , though he declines to provide specifics on what new material will appear in that batch of resissue. However, when asked if the forthcoming Led Zeppelin IV reissue will include previously unreleased recordings made during the "Stairway to Heaven" sessions, Page says, "Absolutely."
Copyright 2014 ABC News Radio