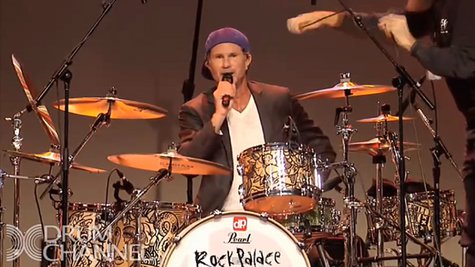 If you're a fan of Red Hot Chili Peppers you may have some new music to groove to in the not-too-distant future.
Chili Peppers drummer Chad Smith tells Billboard , "We're just starting to write and get in the groove of things." Smith says he's really enjoying himself in the process. "This is my favorite time, being creative, coming up with ideas," he says. "You go there at 11 o'clock with something that wasn't a piece of music, everyone collaborates on something, three hours later you've got something that's a piece of music that wasn't there before."
Smith says he's already sure that the album will represent a progression for the band. "We're always trying to change and grow and do new stuff...and you never know what that is going to be," he notes. "And I'm already hearing stuff that I know people are gonna be like, 'Oh, that's something different that I haven't heard them do before.' It's gonna sound like us, but it's gonna be different."
Though he makes no promises for when the new collection will be finished, Smith has set a firm date for something else -- the long-discussed drum-off with Will Ferrell . The two lookalikes -- who have been trading mock insults for months now -- will throw down in the drumming challenge this Thursday, May 22, on The Tonight Show Starring Jimmy Fallon .
Follow @ABCNewsRadio
Copyright 2014 ABC News Radio