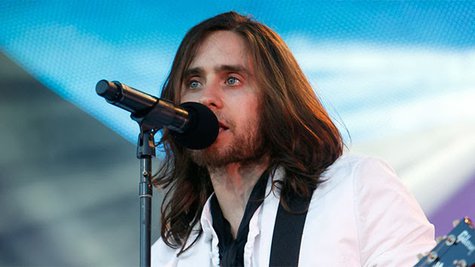 Something is wrong with someone in or close to Thirty Seconds to Mars , and no one's saying what or who. The band was supposed to play seven dates in Latin America early this month and scrapped them, rescheduling in October. In a post on the official Thirty Seconds to Mars website , the band cited "health reasons" amounting to "a private medical issue" and thanking fans for "respecting our privacy during this time."
Now comes word that a pair of South African dates on June 13 and 16 have also been ditched and rescheduled, this time in November, again citing "a private medical issue." The note on the band website says, "We send our best wishes to the band for a speedy recovery."
There has been no official statement from the band about what the issue might be. Also no social media updates that address the nature of the issue, but frontman Jared Leto tweeted just a day ago about a Shazam-sponsored contest to meet the band, and two days ago teased via Instagram that "There are no rules right now. If a song is ready, we could release it. There might be a collaboration or a new song coming. You never know."
Stay tuned.
Follow @ABCNewsRadio
Copyright 2014 ABC News Radio