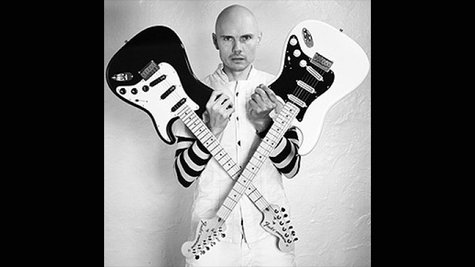 You can call Billy Corgan many things, but you can't call him humorless. The latest status update from the Smashing Pumpkins' recording studio includes a top-view photo of three people sitting around a snare drum which looks to be warped and unwell. The caption reads, in part, " No, that is not 3 men sitting around a tribal fire. That would be a snare destroyed by T Lee, the lugs literally disemboweling from within. Sounds like the true definition of heavy drum vibes, no?"
For those uninformed Pumpkins fans, "T Lee" refers to Motley Crue drummer Tommy Lee , who's been helping out the Pumpkins for the last couple of weeks on the band's in-process album called Monument to an Elegy. Lee seems to have had a hand in guiding Corgan away from the sonic style he mentioned only a month ago -- which he then called "more on the epic side of things than say, grossly metallic" -- and into the realm of "crushing," the word Billy used once Tommy Lee came aboard.
In the latest update, Corgan says that he and Lee are "tracking the drums against the last of the demos."
"Spirit wise we're having lots of fun," Corgan reports. "The stories shared [are] the stuff of legend."
Legend will become reality when the first single from Monument to an Elegy is released later this year.
Follow @ABCNewsRadio Copyright 2014 ABC News Radio