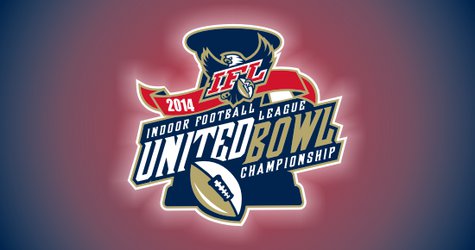 Grand Island, NE (KWSN) - The Indoor Football League (IFL) is excited to announce plans for the upcoming IFL United Bowl Weekend. The 2014 United Bowl, which is the League's Championship Game, will take place during the weekend of June 27th. Hosted by the highest seeded Conference Champion (TBD), the culmination of the season will also feature additional events such as; Board of Director's Meeting, League Banquet, and United Bowl press conference.
Additionally, the Indoor Football League is proud to announce the creation of the IFL Hall of Fame. Founded from a merger between United Indoor Football (2005) and the Intense Football League (2003), the IFL is currently in its 6th season of operation. The Hall of Fame will honor league members for their contributions to the UIF, Intense League, or IFL over the past 10+ seasons of indoor football action.
The inaugural class of the Hall of Fame will be enshrined during pre-game ceremonies of the 2014 United Bowl.
"As we enjoy and recognize the outstanding achievements of the present during the United Bowl weekend, the creation of the Hall of Fame gives us a chance to commemorate the exceptional individuals that have helped to shape the IFL," said IFL Commissioner Mike Allshouse. "We are looking forward to honoring the great men and women that have been so instrumental to the League's growth."
Any contributor to the UIF, Intense Football League, or the current Indoor Football League is eligible, including players, coaches, office personnel, members of the media, and league officials. The league has announced 20 semi-finalists for the inaugural Hall of Fame class. Over the next few weeks, the list will be trimmed to 10 finalists. A final vote, which will include fan participation, will then be taken to narrow the list to the 3 individuals who will make up the hall of fame class of 2014. The semi-finalist list features four individuals that have ties to the Sioux Falls Storm, including:
-Michael Bazemore (DL-Billings Outlaws, Sioux Falls Storm)
-Mark Blackburn (LB- 2003-2009)
-Terrance Bryant (QB- 2005-2010, 2013)
-Rich Roste (Radio Voice of the Sioux Falls Storm/15th Season)
After an initial vote, the 20 candidates will be reduced to 10 finalists for the inaugural class. Once the 10 finalists are determined, a final vote, which will include fan participation, will determine the first three members of the IFL Hall of Fame.
Courtesy: IFL