« Shows & Personalities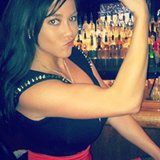 Ash
On Air:

Weekends, Midnight - 6am
Ash is rocking Sioux Falls, her hometown, after living in Las Vegas for nearly 10 years. Along with jamming out on the weekends with the KRRO, Ash is the weekly night time reporter at KDLT News.

The few, spare moments she's not working, you'll find her working out, eating, watching movies or indulging in the Sioux Falls night life.

Her favorite bands are Red Hot Chili Peppers and Guns N' Roses.