« Shows & Personalities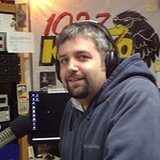 Christopher
On Air:

Weekdays, Midnight - 5am
Christopher hails from Chicago, where at a young age he would make "radio shows" using an old cassette recorder to record with and another to play songs. He went on to Columbia College Chicago, a few places in Iowa and has been enjoying Sioux Falls since 2008 with his trophy wife.

When he isn't playing the best rock tunes in the Sioux Empire, Christopher enjoys sitting in the studio producing radio magic and boozing it up. Other hobbies include video games. From NES to PS3 and everything in between. He also dabbles in tinkering with cars. An avid fan of American Dad, The Simpsons and Family guy, Christopher also enjoys science fiction, The Discovery Channel, and rotting his brain on the internet.

Favorite bands include Metallica, Van Halen, Korn, and anything else that ROCKS!