« Shows & Personalities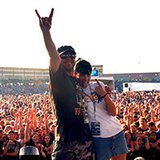 KRRO Morning Show
On Air:

Weekdays, 5am - 9am

Hosts:

Cade, Ryder
About the Show

Forget about your dreadful daily duties during your morning commute with some laughs from The KRRO Morning Show! Rock out to the best tunes on the planet and start your day with some kick-ass prize giveaways.Rock on everyday with 103-7 the KRRO!

Show Hosts

Cade

Cade comes to us from the lakes of Minnesota. He's been rocking the Sioux Empire on 103.7 KRRO since 1998.

A proud father of two very lovely ladies, Cade enjoys his time away from radio spent in front of the TV. No, not crappy reality shows, but rather screaming at the television while watching his beloved Vikings, Twins, T-Wolves and/or Wild blow another lead.

Drinking to oblivion is another hallowed pastime of this old radio dog. Favorite haunts include anywhere with live music and is within stumbling distance of downtown.

His favorite bands are Tool and Green Day, loves the colors black and blue, and wants to end up on the beach in the Caribbean.

Ryder

Here's what you need to know about Ryder - She's from Minneapolis. She likes good beer every once in a while... and cheap beer all of the time. In the 1st grade she beat a boy in an arm wrestling contest. Her favorite band is Nirvana. She kinda likes scraping the ice off her car in the morning. She REALLY likes Quentin Tarantino movies. She REALLY REALLY likes loud music. She REALLY REALLY LOVES being on the radio. She does NOT like karaoke or skittles.