« Shows & Personalities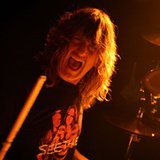 Rev
On Air:

Weekdays, 2pm - 7pm; Saturday, 10am - 2pm; Sunday, 6am - Noon
The 'Rev' is our hometown boy who has been on the KRRO since before it was the KRRO. Sioux Falls has been 'Rockin' with the Rev' since the dawn of time.

The Rev's favorite things include The NY Jets, Minnesota Twins, Timberwolves, The Black Hills, KRROfest, cold beer, tacos and pizza. Besides being a long time radio guy, Rev has been banging drums in many local bands for over 20 years. He currently plays with Juke Box Zeroes who released a double CD in Sept 2012 and Rock 'n Roll Damnation, an AC/DC tribute band.

His favorite bands include Hinder, Buckcherry, AC/DC, Rush, Foo Fighters, JBZ and many more.

The Rev also coined the now world famous phrase, "How 'bout now?" Look for it on his headstone.